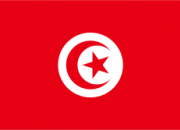 Listen Radio Stations from Tunisia online

About Tunisia's radio stations
Tunisia is a small country located in the northernmost point of Africa. Only 11 million people inhabit it, and many reside in its capital Tunis. The predominant religion in the country is Islam, and although in past centuries there was a large presence of French culture due to colonization, the essence of Tunisia remains virtually intact. Its nuances and colors are still very present in all cultural events, including broadcasting. Although the origins of the radio were for military use, due to its strategic geographical location, the radio became public for citizen use and soon became popular.
News Stations
Mosaique FM (Tunis: 94.9 FM): The Mosaique radio station is the most listened to radio station in Tunisia. It offers a varied program and covers current events in the country. It has the most popular and followed shows. In addition to passing the news, national and international, political, sports, cultural, etc. It offers musical accompaniment programs and a djing set. The success of Mosaique FM is its ability to respond in covering the news, with breaking news every hour and close work, in addition, the fairly original choice of topics and themes that best suit the horizons of waiting for a range of listeners whose age range is between 20 and 40 years.
Shems FM (Tunis: 101.7 FM): It is the second private radio in the country. It offers general programs with an emphasis on sports and information. Shems FM is distinguished by the diversity of its content rich in debate of ideas, information, entertainment throughout the place, with the ambition to gather the largest number of listeners. What characterizes Shems FM at most is that its management understood from the beginning that it had to focus on young audiences. An audience looking for escape and entertainment. In addition, its slogan has been since the launch "Shems FM The radio that does your ears well", hence the use of the Tunisian dialect with touches of French, fashionable.
Music Stations
IFM 100.6 (Tunis: 100.6 FM): Its slogan is "The best of laughter and music." As a result, the station offers programming that alternates humor, songs and information. It began broadcasting from November 4, 2011, in Arabic and French. Over time it was positioned among the most popular stations in Tunisia. A funny radio station can only include the cream of Tunisian comedians in collaboration with very funny young journalists.
Other Popular Stations in the Country
Jawhara FM (Tunis: 102.5 FM): Its name "jawhara" means Pearl in Arabic. Its slogan is ambitious "We are where you are", but realistic because the station, which transmits mainly in Tunisian dialect, has fulfilled its commitment to be the radio of all Tunisians with no exception. It is a generalist station interested in entertainment, music, culture, sports and news and whose launch dates from 2005. It quickly competed with state radio. To do this, Jawhra FM opted for a youth speech, titles that closely affect the audience and outreach work.