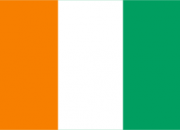 Listen Radio Stations from Ivory Coast online

About Ivory Coast's radio stations
To the south of the west coast of Africa we can find Ivory Coast, a small country but with a lot of identity. When we talk about its capital we must talk about two cities, because although its political capital is Yamoussoukro, its largest city, most populated and considered its economic capital is the coastal city of Abidjan. The culture of Ivory Coast is radically unique, since its society is made up of more than sixty ethnic groups and religions, and although French is the official language, each has its own language. Although the independence from France came only fifty years ago, the traditions remained intact.
News Stations
RTI (Abidjan: 88.0 FM, Yamoussoukro: 88.0 FM): RTI is the radio station of the largest and longest national television network in the country with the same name. Its programming is general, in its broadcast we can find news, political analysis, talk talk shows, entertainment and great musical content. Its most popular segments among the audience are its Top 40 and its listings cover all kinds of musical genres.
Atlantique FM (Abidjan: 107.2 FM): The first university radio station in Ivory Coast. It was created at Atlantique University, to allow the students of the journalism and communication institute of this university to be trained in audiovisual practice. Its transmission was extended due to its great success among young people and now covers the entire Abidjan district and extends to the suburbs of the city. His programming delights a good number of listeners in search of updated knowledge and international and national news.
Music Stations
Radio Jam (Abidjan: 99.3 FM): The most innovative radio station broadcasting in Ivory Coast since 2004. Find all the music styles and hits most requested by the audience. Radio Jam is a reference among the listeners for having the most current global hit lists, but not everything is international, the spaces for artists and local groups are also highly acclaimed. It is known as "the No. 1 radio in Ivory Coast" And as the home of african folk music on the radio thanks to offering a space to local musicians.
Nostalgie (Abidjan: 101.1 FM): The non-stop music radio station. Nostalgie broadcasting from the city of Abidjan, has it all, the best DJs, the biggest guest stars and full of surprises. The theme of this season, as the name implies, are the best and greatest pop hits of the 70s, 80s and 90s. Their musical listings are carefully selected by the experts in Nostalgie, the best DJs, selectors and announcers, in order to gather the best of the times of the past.