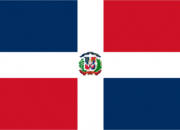 Listen Radio Stations from Dominican Republic online

About Dominican Republic's radio stations
The Dominican Republic is the second largest country in Central America and the Caribbean. It has 10 million inhabitants. Santo Domingo is its capital and the place where radio is born in the country. The origin of the radio in the Dominican Republic was limited, since initially it was not for the use of citizens, but for the military. The radio encountered many adversities, such as natural disasters and extensive dictatorships, but even so, the big businessmen managed to take advantage of the boom times to expand Dominican radio and continue with progress, which allowed it to position itself in the place it occupies today as one of the means of information and entertainment preferred by the people.
Music Stations
Radio KQ (Santo Domingo: 94.5 FM): Station that broadcasts the most listened to songs of today, mainly of the urban genre. KQ, known as The Invincible, is a station that broadcasts the best urban music and other musical shows ideal for a young and adult audience. The main programming of KQ consists of the best urban music of all time, as well as other spaces with interactive musical shows.
Ritmo 96 (Santo Domingo: 96.5 FM): Ritmo 96 is a frequency modulated radio station that transmits varied content, such as news, information of interest and the best of the music of the moment of the Dominican national genres. Rhythm 96 programming is dynamic. It focuses on content that pleases young audiences and young adults, this being mainly music in English and urban genres, salsa, bachata and merengue.
News Stations
CDN Radio (Santo Domingo 92.5 FM): CDN Radio is a station that broadcasts the news about everything that happens nationally and internationally, as well as other help information and more. Its selection offers a wide variety of segments with music, news, sports information, personal, family, health and much more advice 24 hours a day. CDN programming is mainly composed of segments with news of various kinds about what is happening today, as well as programs on sports, health, personal advice and more.
Z101 (Santo Domingo: 101 FM): It is one of the most popular stations in the country, which transmits political, economic, cultural, national and international news, opinions, live shows and many more. Z101 is a news radio. Its main objective is to disseminate information; local and international; in politics, sports and entertainment. It also has talk shows that discuss local and international politics. Its transition to digital transmission has taken Z101 to all corners of the country and the world.
Other Popular Stations
Zol FM (Santo Domingo: 106.5 FM): Zol FM is a Dominican station that broadcasts the best interactive programs and varied topics on the internet, informing about what people are interested in listening to and what is happening in the country and the world. It is aimed at an audience between young and adult. It has stations throughout the country, thus becoming one of the heaviest stations in the Dominican Republic. Its programming is mainly based on informative segments for an audience that enjoys varied and topical topics.