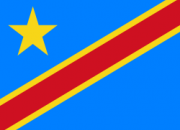 Listen Radio Stations from Democratic Republic of the Congo online

About Democratic Republic of the Congo's radio stations
The Democratic Republic of Congo or simply Congo is a country located in Central Africa and is the second largest in the continent. Due to its size, it has almost 100 million inhabitants (91 mill). Its capital and largest city is Kinshasa. The Congo has developed many radio stations since its first broadcasts, most of which are in Kinshasa. The transition constitution installed an entity called Haute autorité des Medias (HAM), which oversees media activity, including broadcasting. A large portion of the transmissions are in the four national languages: (Kikongo, Lingala, Swahili, Tshiluba). The rest of the transmissions can be heard in French and English.
News Stations
Top Congo FM (Kinshasa: 88.4 FM): Top Congo is a news portal that broadcasts throughout the country. Although opinion and entertainment segments can be found, the main course of the station is the national events. It is among the most listened to radio stations among the French-speaking population and is one of the oldest broadcasting a live signal continuously. Top Congo is also popular for being a medium where political issues are discussed and impartial debates are held where members of all parties can participate.
Radio Okapi (Kinshasa: 103.5 FM): Radio Okapi is a station that provides news and information. Being present in many regions, it has been able to transmit to the entire Congolese territory. Okapi programming can be enjoyed in five languages, its sports broadcasts are very popular among the country's listeners. It was founded in 2002 by the United Nations Mission in order to have a means that was able to keep the entire population informed of the nations and global events.
Music Stations
UB-FM (Kinshasa: 89.5 FM): Favorite station for music lovers. UB broadcasts the best national and international hits in the world, in addition to its popular list of 80s and 90s classics. The music sections are only interrupted by talk shows and entertainment. The UB audience enjoys asking for songs by calling the station and listening to the weekly tops. Ub is heard by young audience, between 18 and 25 years of age are the most frequent listeners and participate in interactive spaces.
Other Popular Radio Stations
Radio Maria Congo (Kinshasa: 105.6 FM): Station that provides Christian music and programming for the entire Congolese family. Radio Maria disseminates Christian values and education through its special programs aimed at young people and adults. It also has French music lists including international hits. Radio Maria is the most listened to Christian radio station dedicated to announcing the conversion through a program that offers a great space for prayer, catechesis and human promotion.